2015 SUIP Student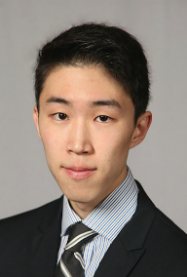 Alex Kim
Franklin & Marshall College



ABOUT ME
I am from Edison, New Jersey, and I am a rising senior at Franklin & Marshall College. My major is in chemistry with an emphasis in biochemistry, and I enjoy tutoring and doing inorganic chemistry research alongside coursework. My research is focused on the study of semi-conductive nanoparticles and their photovoltaic properties. Outside of the classroom, I play the viola and run a club called the Fitness & Martial Arts Club as its president and Tae-kwon-do instructor. I am also the Vice-President of the Benjamin Rush Honor Society for pre-health students at Franklin & Marshall College.
Currently, I am applying to medical school, hoping to matriculate after graduating from Franklin & Marshall College. My dream to become a physician has stuck with me since the age of 11 and has developed since then. I have always found medicine to be a fascinating science as well as a precious opportunity to help people in need.
MY EXPERIENCE WITH THE SUMMER UNDERGRADUATE INTERNSHIP PROGRAM
The CTSA SUIP program has provided me with valuable insights into the realm of clinical and translational research, as well as the diverse spectrum of fields being explored. These illuminating seminars ranged from those related to HIV findings to breakthroughs in ophthalmology to an overview of protocol development for human research. Furthermore, this learning experience was supplemented by the opportunity to work interactively in a biomedical research lab throughout the internship. I believe that being able to understand the current state of medical research will allow me to become a more knowledgeable physician. So, the CTSA program has given me this opportunity to build my awareness of research and how it applies to the clinical setting.
MY EXPERIENCE IN THE LAB
Despite having done chemical research since my freshman year at Franklin & Marshall College, I was a novice to research in the biomedical setting. So, I started by taking the initial steps – immersing myself in the literature and gaining familiarity with lab procedures such as Sanger sequencing, whole genome amplification, and primer optimization. I was also able to glean further insight into the field of cancer genomics by listening in on the collaborative meetings by research faculty members. My mentors in the lab have been very thoughtful and kind to me throughout the process, patiently guiding and allowing me to assist with their projects in the lab, one of which had to do with the sequencing of genetic variants in breast cancer patients' DNA.