2015 SUIP Student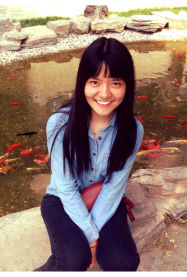 Ann Zhang
Bryn Mawr College



ABOUT ME
I am a rising senior at Bryn Mawr College, majoring in chemistry. I was originally from China and have been in the States for three years. I am pre-med and eager to go to a medical school after college.
MY EXPERIENCE WITH THE SUMMER UNDERGRADUATE INTERNSHIP PROGRAM
I applied for the CTSA program last year, but I was not able to get in. After spending more time in lab in the past year, making myself more prepared, I was so excited to receive the email from Dr. Manning, saying that I was accepted. Before the internship began, I thought it would be a similar experience with what I had in lab at Bryn Mawr despite the fact that UPenn was a bigger university. However, the difference is far more complicated than what I have imagined. A bigger setting results in many consequences. For example, a single lab can have many subgroups and people collaborate together to achieve a large project, which results that working alone is not enough and communicating with other colleagues from time to time is as important. Even in a small talk, the topic might inspire your own study. I enjoy interacting with other people, as it is also a crucial skill for the future. The whole environment here is more practical and enlightening.
I think the most valuable part of CTSA program is that it is not only a research program but also includes various kinds of activities. The balance of activity was pretty good. Sometimes staying in lab too long was not helpful. Getting out of the lab and listening to some excellent doctors or researchers talking about the brink of science are extremely meaningful. Those activities effectively broaden my view and refresh my knowledge in different fields. The lecturers are all open to questions, which gives us good opportunity to exchange ideas with these excellent scientists or doctors. I learn a lot from their research, but more importantly, I get many inspirations from their life and their career path, which is useful for me to determine my life direction in the future.
MY EXPERIENCE IN THE LAB
I work in the lab of Dr. Wayne Hancock, who is a professor of pathology and laboratory medicine at The Perelman School of Medicine at the University of Pennsylvania. It is a large lab. Under the supervision of Dr. Hancock, there are several projects processing at the same time. The group is currently doing research on the effects of standard immunosuppression on regulatory T cells in liver transplant recipients using mice model. The approach involves using histone deacetylase inhibitors (HDACi) and histone/protein acetyltransferases inhibitors (HATs) to suppress the function of these Treg cells and thus increase immune response to cancer cells. My direct mentor studies particularly how USP7, a Treg deubiquitinase, can have influence on Tregs, which are got from the depression patients and lung cancer patients before and after treatment respectively. The main techniques I use in lab are reverse transcript PRR, qPCR, and flow cytometry.
My direct mentor provides me invaluable help. At first, I was not familiar with those biology-based techniques because I major in chemistry at Bryn Mawr. However, she taught me step by step and articulated the rationale underneath, which made me easy to remember. She is so organized and responsible that I learn just enough things at the end of every day.