2015 SUIP Student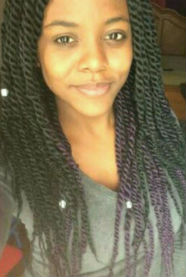 Ashley Ellis
Lincoln University



ABOUT ME
I am currently a senior at The Lincoln University pursing a BS in Biochemistry and Molecular Biology as well as a BS in Nursing. I have participated in internships, prior to the CTSA internship program, at the University of Iowa and Fox Chase Cancer Center where my projects focused mainly on cancer research (i.e. head and neck cancer, oropharyngeal cancer). Being a nursing student has given be the privilege to complete clinical rotations in a variety of areas of patient care (i.e. telemetry, psychiatric, etc.). With my BS in Nursing, I aim to become a Nurse Anesthetist who participates both in clinical and translational research as well as bedside care.
MY EXPERIENCE WITH THE SUMMER UNDERGRADUATE INTERNSHIP PROGRAM
I chose the CTSA internship program because I wanted to experience clinical and translational research. I wanted to understand the different approaches to clinical and translational research as opposed to cancer research. The CTSA community, both my fellow interns and the individuals involved in administration, have been very supportive throughout the program. The CTSA seminar series, workshops and translational research course has been educational. The workshops have taught me about numerous graduate school options. The seminars have exposed me to other research projects in different departments throughout the University of Pennsylvania. On the other hand, in the translational research course, I learned about translational research, ethics in research and many more.
MY EXPERIENCE IN THE LAB
I worked with Dr. Martha Curley in the School of Nursing. The project that I worked on focused on "Predicting Immobility-related and Medical Device-related Pressure Ulcer Risk in Pediatric Patients". A part of what I did involves patient data input from participating hospitals into RedCap, a web application used to design and manage clinical and translational research databases. Prior to starting my internship, I was anxious about this new experience since I was more familiar with a research lab setting. However, Dr. Curley and other individuals in my department were very supportive and taught me all that I needed to know.