2015 SUIP Student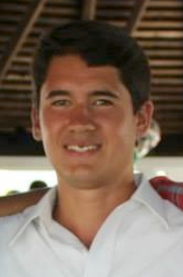 Eric Caliendo
Haverford College



ABOUT ME
My name is Eric Caliendo, and I am a senior Biology Major at Haverford College. I have always been interested in the major questions surrounding the life sciences, and these inquiries have driven me to make Biology my major. I have thoroughly enjoyed my academic experience at Haverford because we have very advanced science departments for a small liberal arts college combined with the personal connections that foster between faculty and students at special schools like Haverford. The college has reaffirmed and strengthened my curiosity in the many different fields that flow from Biology. I am also a member of the lacrosse team at Haverford and have been playing the sport for 15 years. We have had our ups and downs, but the experience of playing lacrosse at Haverford has had a major positive influence in my development as a competitor and a person. I intend to carry this knowledge and understanding that I have gained both on the lacrosse field and in the classroom with me for the rest of my life. The next step on this journey for me will be medical school, possibly combined with a Masters in a specific biomedical or public health field. As far back as I can remember, I have wanted to be a medical doctor and translate my knowledge into effective treatment and cures for other people.
MY EXPERIENCE WITH THE SUMMER UNDERGRADUATE INTERNSHIP PROGRAM
I don't know if I could imagine a better summer internship program than the one that the entire CTSA summer internship package provides. The accommodations provided by the program are extremely nice, in a great location, and facilitate a community feeling between the interns. I am so lucky to have had the privilege to listen to some of the best minds at UPenn give lectures on the subjects that they love and have devoted their lives to. Our program director, Dr. Dave Manning, has put together a rather impressive series of seminars and workshops aimed at instilling curiosity in various areas of scientific discovery and enlightening us on the many different career paths open to those interested in translational science. The whole program has helped me grow as a scientist and further instilled in me the desire to question the world around me. I am confident that the skills and knowledge I have gained through the CTSA internship will help me make the most of my future career in medicine and translational science.
MY EXPERIENCE IN THE LAB
I share the desire to help people with everyone who is working in my research lab. Their primary motivation is to more deeply and concretely understand various health issues and complications with the desire to alleviate these pains. I work in a lab under the supervision of principal investigator Dr. Garret Fitzgerald, who has chosen to focus on more than one main area of research. About half of the lab studies the side effects of anti-inflammatory drugs (like NSAIDS and coxibs) on different physiological processes. The other half (in which I am part of) conducts research to better understand the circadian rhythm, a phenomenon observed in many complex organisms in which a group of genes influence the 24-hour oscillation of certain physiological states (such as body temperature, levels of digestive enzymes, cardiovascular rates, etc.). The photoperiodism observed in tissues of many organisms is an evolutionarily advantageous trait because it prepares the body for particular activities that usually occur during a certain time during the day's natural light/dark cycle. My post-doc mentor, Sarah McLoughlin, is understanding and lessening the detrimental effects of "knocking out" one of the core clock genes, Bmal1, in mice. I have assisted her in several laboratory and statistical procedures to help keep her project running smoothly. I love going into work every day because everyone in the lab is really welcoming and I feel like I am contributing to significant scientific inquiries. The Fitzgerald Lab is fairly large and internationally diverse with extremely brilliant minds from all over the world working there. The advantage of the size and diversity of the lab is that there are so many different perspectives on scientific approaches along with unique experiences that have helped mold them into the successful scientists that they are today. I have learned a great deal from them all about more than just research, and I am extremely grateful to them for all their knowledge and insight.