2015 SUIP Student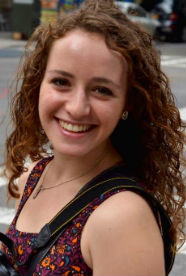 Kyra Sagal
Bryn Mawr College



ABOUT ME
While this is my first research experience, I have had ample experience in the sciences while at Bryn Mawr. This past school year, my sophomore year, I was a Peer Led Instructor for General Chemistry. I led two review sessions a week based on the material taught in lecture. I am also an Introductory Biology Laboratory TA. I just declared my Biochemistry and Molecular Biology Major at Bryn Mawr College, and I'm a Dance Minor.
Outside of the sciences, I work at Admissions as a tour guide. I also have enjoyed different leadership experiences. This past school year I was a Customs Person, typically a sophomore who lives on a hall with multiple first year students to acclimate them to college life and be a resource for the year. This coming year I will be Co-dorm president for my future dorm. While I'm incredibly passionate about the sciences, I believe that making your college a second home is incredibly important. One should always be comfortable in a new, intense environment to guarantee both academic and personal success and satisfaction.
I am incredibly interested in medicine and science. I believe that many issues in both the United States and the world, in general, can be helped by ensuring proper health care benefits, treatments, and access to all people. I have also been dancing since I was young. I danced competitively from middle school through high school, and I'm currently in a tri-college dance group based on the styles of the African Diaspora. I am co-directing a Bi-college student dance concert, as well, and I participate in the dance department at my home institution. Dance is an incredibly important part of my life.
While I do not know if I would like to pursue an MD or an MD/PhD, I would love to be a doctor, regardless. It is imperative that I provide healthcare and treatments to people, whether I become a neonatologist, OBGYN, or general surgeon. I want to make people comfortable and satisfied with their lives. Too often, people go through life hoping to be happier, but they can never find the one thing that's missing. I believe that one's health can impact one's satisfaction in life far more than most people believe. So often, health is neglected. I believe I can change the way people look at life by ensuring that they can live physically healthy.
MY EXPERIENCE WITH THE SUMMER UNDERGRADUATE INTERNSHIP PROGRAM
My experience in the CTSA internship summer program has been extremely valuable intellectually, but I believe that the relationships I have built in the lab will carry with me for far longer than I expected. They have allowed me to quickly become comfortable and willing to ask questions, learn, and truly enjoy my time at CTSA.
Throughout my first week, one post doc had me share "fun facts" about myself to the lab. It was was an easy way make the research environment, a place I had yet to be exposed to, an inviting and comfortable place. As I was pipetting, working on the computer, or quantifying tumor burden in lung scans, I found myself laughing and willing to open up to other members in my lab.
Thus far, I've enjoyed each class, seminar, or workshop for a different reason. One main aspect of the CTSA internship is to provide participants with an opportunity to figure out what it is we want to do in our future. The career workshops were able to provide me with an expected timeline for various career paths, and it further clarified what exactly I can picture myself doing. The translational research course allowed me to better connect how my lab work this summer can be applied to medicine, because it clarified the process of how basic or biomedical science is physically translated into clinical care. However, I have enjoyed the CTSA seminar series most.
Each session is led by an MD, PhD, or MD/PhD with a different background, interest, and research experience. Presenters always described their career path, introducing us into his or her personal life. It has made my potential career path feel feasible.
So far, my favorite session has been a presentation called "HIV and the World's First Cure", given by Dr. Robert Doms. Dr. Doms explained a complicated virus and issue in a tangible manner, providing both research and historical background. HIV and AIDS has always been an intriguing virus to me since middle school when I first learned about it after seeing the musical RENT. Being able to hear how AIDS may be cured in the future was such an inspiration to those who hope to create medicine and treatments through research.
I definitely enjoy having between 2-3 hours of class or seminars throughout the week. It provides a break from lab work. I also enjoyed having more seminars within the first two weeks, which then lessened as the program progressed. At the beginning, most of lab work consists of learning about the research project and how to do different techniques. Having seminars helped to break up the sudden "newness" that could have otherwise felt overwhelming. However, I really enjoyed being in lab for the majority of the time. It allowed for full commitment to the research.
I believe that the CTSA interns are eager to participate in research just as they are eager to socialize with one another. While the program's time intensity does not allow for much socializing, I believe that all members involved in the CTSA program have an interest to get to know others as much as to personally benefit from the experience.
I chose the CTSA program because not only is it an amazing, reputable opportunity, but it allowed me to make a choice in choosing a mentor and potential research project. Dr. Manning provided me with a list of potential mentors after I told him my largest interests, and that allowed me to be more excited to start the summer. Being so close to my home institution, I was actually able to meet my mentor and the rest of the lab before the summer began by attending a lab meeting. I also felt that being in Philadelphia would provide its own opportunities. Working a 40-hour work week can seem daunting, and being in a city like Philadelphia allows easy access to food, events, and nightlife.
MY EXPERIENCE IN THE LAB
I am currently working in Dr. David Feldser's lab in cancer biology. My day to day lab work is under the supervision and guidance of a post doc, Michelle Cicchini. The lab focuses on lung cancer, using a particular mouse model based on the MAP Kinase Pathway. My post doc's project has focused mostly on an intriguing aspect of the BRaf inhibitor. BRaf is a component of the MAP Kinase pathway. KRas is one molecule in the pathway, and it is upstream of BRaf. In previous research, it has been found that people with melanoma who have been treated with medicine often containing the BRaf inhibitor have sometimes been found to develop cancer in other areas of the body once the melanoma is nearly completely gone. It has been found that if a person has a mutant KRas and is then treated with the BRaf inhibitor, there is tumor progression.
Using mice, Michelle has looked at tumor progression in the lung, particularly focusing on different areas of the lungs and cells that are more likely to become cancerous. At the beginning of my time, I was making scans of lungs from mice that had previously been part of her experiments, and I was also making images from microCT images of the mice.
We recently started an experiment looking at KRas mutant human cancer cell lines. MEK is a molecule downstream of KRas in the MAP Kinase pathway. If the cells are treated with a MEK inhibitor, we are interested in seeing if there is more cell death, which would indicate that the cells are KRas or MEK dependent. Similarly, treating the cells with a BRaf inhibitor and then combining the two drugs can provide information indicating the dependence on KRas or MEK.
My lab is small, which allows for personal interactions with nearly every lab member daily. This has allowed me to develop relationships with each member, and I feel comfortable asking any lab member questions. I also like that everyone in my lab tries to have lunch together at the same time each day.