Master of Science in Regulatory Science
MSRS Curriculum
The MSRS degree requires 12 credit units including coursework and a thesis.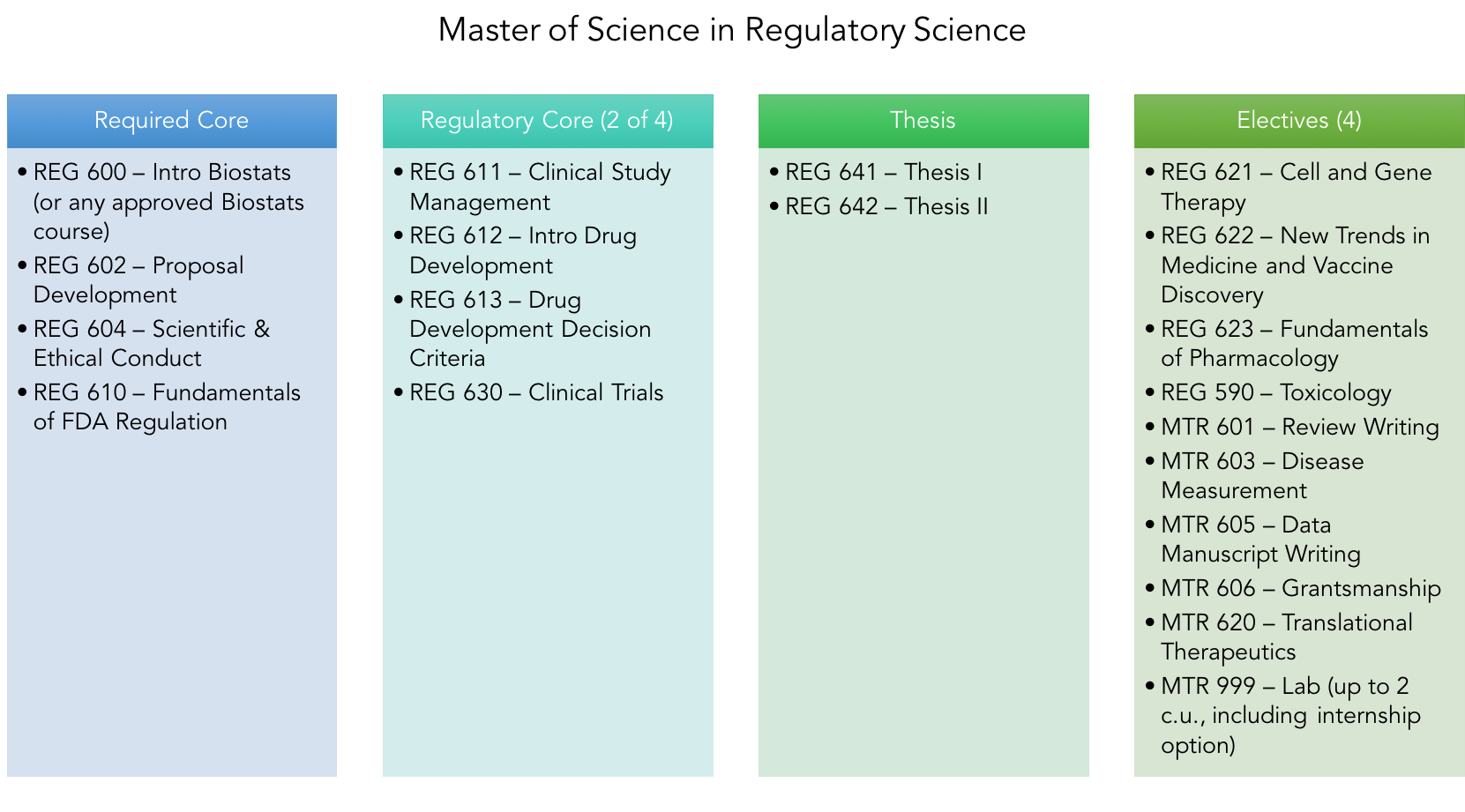 ---
Course Plan:
Core Courses:
REG 610 — Fundamentals of FDA Regulation
REG 600 — Introductory Biostatistics
REG 602 — Proposal Development
REG 604 — Scientific and Ethical Conduct
Regulatory Core (Choose 2 of 4):
REG 611 — Clinical Study Management
REG 612 — Introduction to Drug Development
REG 613 — Drug Development Decision Criteria
REG 630 — Clinical Trials
Thesis:
REG 641 — Thesis I
REG 642 — Thesis II
Electives (Choose 4):
REG 621 — Cell & Gene Therapy
REG 622 — New Trends in Medicine and Vaccine Discovery
REG 623 — Fundamentals of Pharmacology
REG 590 — Toxicology
MTR 601 — Review Writing
MTR 603 — Disease Measurement
MTR 605 — Data Manuscript Writing
MTR 606 — Grantsmanship
MTR 620 — Translational Therapeutics
MTR 999 — Lab
View Description of Required Core Courses
Required Core / Regulatory Core Courses
REG 610: Fundamentals of FDA Regulation
Course Director: Monica Ferrante, DPA
Next offered: Summer 2018
This introductory course provides an overview of Regulatory Affairs in relation to three key areas of development: Drugs, Biologics, and Medical Devices. The course will look at the rules governing prescription and over-the-counter drugs as well as the changes introduced by the influence of genetic engineering and biological product development. The developmental and regulatory path for new devices, as well as the way products are governed once in the marketplace will be explained. Throughout the course, practical issues facing regulatory specialists as they work with the FDA and other international regulatory bodies to secure and keep product approval will be addressed.
MTR 602: Proposal Development
Course Director: Anil Vachani, MD, MSCE
Next offered: Fall 2018
This course focuses on study design and proposal development as they relate to the studies that probe the mechanism of disease. It discusses concepts such as writing a background section, asking a research question, designing a study, use of biomarkers, writing a research proposal, overview of different study designs and addressing feasibility issues. Development of the thesis proposal starts during this course and concludes with each student submitting and presenting their proposal to the MTR faculty panel for critique and feedback.
REG 600: Introductory Biostatistics
Course Director: Andy Cucchiara, PhD
Next offered: Fall 2018
This course approaches statistics from an applied as well as theoretical point of view. Students learn the correct application and interpretation of basic statistical concepts and techniques. The course covers probability estimation, hypothesis testing, nonparametric tests, tests for categorical data, correlation, and regression. Students will be provided with an understanding of statistical methods, skills in the use of software to apply those methods and the critical thinking to interpret analytic results produced by your effort and/or that of fellow researchers.
REG 604: Scientific and Ethical Conduct
Course Director: Emma Meagher, MD and Tracy Ziolek, MS, CIP
Next offered: Spring 2018
In this course, students will learn the foundational principles of scientific and ethical conduct of research, complete directed experience in evaluating these principles through IRB membership and ultimately be able to apply them to their own work. By the end of the foundational class sessions, students will understand scientific conduct, ethical considerations including human subjects and animal protections, regulations governing the use of health information, drugs, and devices, good laboratory practices, conflict of interest, and ethics in challenging new research domains. The directed experience will include membership for six months on an Institutional Review Board (IRB) at either the University of Pennsylvania or the Children's Hospital of Philadelphia. This membership experience will expose students to real issues, considerations, and solutions in human subjects research and study design. ​
REG 611: Clinical Study Management
Course Director: Emma Meagher, MD
Next offered: Summer 2018
This course will focus on the practical aspects of executing clinical trials in an academic environment in a GCP complaint fashion. Upon course completion students will be able to effectively implement and manage both investigator-initiated and industry-sponsored clinical research studies. Students will be guided through the operational aspects and regulatory processes for the three stages of study management: pre study, study start-up and implementation, ongoing compliance and study close out . Students will learn strategies for navigating the complex regulatory/operational clinical research environment and for successful protocol development and approval, subject recruitment, data management and IRB/FDA interactions. Protection of human research subjects and adherence to good clinical practices guiding research in humans is a critical concept that will be integrated throughout each of the lectures.
REG 612: Introduction to Drug Development
Course Director: Jeffrey Barrett, PhD, FCP
Next offered: Spring 2018
Drug development is the process by which new chemical entities are discovered, studied in laboratory and preclinical models and investigated clinically in patients to determine if they are safe and efficacious. This introductory course lays the foundation for conducting pharmaceutical research in many ways. It begins with a brief review of the history of drug development and explains the phases of drug development in detail. The decision making process, drug development milestones and compound progression metrics are defined and explained with examples. At the conclusion of this course, students should have a working knowledge of the drug development process, understand the regulatory basis by which new chemical entities are evaluated and ultimately approved and appreciate the time and expense of drug development.
REG 613: Drug Development Decision Criteria
Course Director: Jeffrey Barrett, PhD, FCP
Next offered: Fall 2017
Drug development is a highly regulated process with a great deal of oversight provided by both the global regulatory community and the internal management of the companies themselves. This course reviews the critical junctures over which innovative and generic drugs are evaluated and the decision criteria used to judge performance and plan next steps. The nature of the collective data under review, the decision paths and the decision makers themselves often change depending on the stage of development. This course covers decision criteria from drug discovery through post marketing and even entertains decision points for generic drugs (pharmaceutical- and bio- equivalence). Metrics for evaluation, company and regulatory expectations and the tools used to facilitate decision (e.g., modeling and simulation techniques to generate "what if" scenarios) making are all discussed in detail.
REG 630: Clinical Trials
Next offered: Spring 2018
The purpose of this course is to serve as a general introduction to clinical trials. This course will emphasize trial design and implementation. This is not a course on the biostatistics of clinical trials. It is expected that at the conclusion of this course a student will be able to plan and execute a clinical trial.

Close section
---
Description of Thesis
Thesis
At the time of application, each student specifies the project they will pursue, along with the primary mentor who will supervise the research project. The primary mentor will also help the student identify a feasible research question for the thesis paper and defense. Students will use class material and homework assignments to assist in protocol development under the direct supervision of the mentor.
The thesis should consolidate students' knowledge of the principles and practice of regulatory science research. Students are expected to complete a thesis that involves designing a research project, writing a formal research proposal, performing the study described in it, preparing 1-2 comprehensive scholarly scientific paper(s) reporting the results, and presenting and defending the thesis at a public seminar. The defense portion of the seminar will be a formal oral defense of the thesis with three examiners.
Close section
---
Disclaimer
Please note that policies concerning admissions, curriculum, funding and financial aid are subject to change. Additionally, though variations in the curriculum may be possible, any changes will need prior approval and may have financial implications. This website is meant to provide preliminary general overview information only. Students interested in or enrolled in the program should seek personal advising from relevant faculty and staff.