Master of Science in Translational Research
MTR Curriculum
Students may complete the traditional MTR Curriculum or elect an optional specialized track. The curriculum is the same for both postdoctoral and predoctoral students.
---
Six Core Courses:
MTR 600: Introductory Biostatistics (1.0 c.u.)
MTR 601: Review Writing (1.0 c.u.)
MTR 602: Proposal Development (1.0 c.u.)
MTR 603: Disease Measurement (1.0 c.u.)
MTR 604: Scientific and Ethical Conduct (1.0 c.u.)
MTR 605: Manuscript Writing (1.0 c.u.)
View Description of Required Core Courses
Required Core Courses
MTR 600 Introductory Biostatistics: (Fall - year one)
This course approaches statistics from an applied as well as theoretical point of view. Students learn the correct application and interpretation of basic statistical concepts and techniques. The course covers probability estimation, hypothesis testing, nonparametric tests, tests for categorical data, correlation, and regression. Students will be provided with an understanding of statistical methods, skills in the use of software to apply those methods and the critical thinking to interpret analytic results produced by your effort and/or that of fellow researchers.
MTR 601 Scientific Writing I: Review Writing (Summer II - year one)
This course will lead students through the process of writing a Review Article during their first Summer within the MTR program. Review articles will be authored with the student's primary mentor and will be used to accomplish the following goals:
Attain rapid familiarity with background in their new area of study;
A mechanism for mentor and student to create a productive working/writing relationship;
Help the student identify key gaps in the literature and/or areas of controversy that would benefit from pivotal experiments;
Understand the factors that contribute to variability in research outcomes in their area and;
Introduce the student to other scientists in their new area through an initial publication early in their career.
Mentors will be asked to agree to participate in this process, or identify another senior individual in their group who would perform the function as a condition to have MTR students funded in their program. The course director and members of the curriculum committee will provide guidance and critical reviews throughout the process.
MTR 602 Proposal Development: (Summer II through Fall - year one)
This course focuses on study design and proposal development as they relate to the studies that probe the mechanism of disease. It discusses concepts such as writing a background section, asking a research question, designing a study, use of biomarkers, writing a research proposal, overview of different study designs and addressing feasibility issues. Development of the thesis proposal starts during this course and concludes with each student submitting and presenting their proposal to the MTR faculty panel for critique and feedback.
MTR 603 Disease Measurement Course: (Fall - year one)
Acquire the knowledge to rationally and effectively incorporate disease measurements, including emerging technologies, into the design of translational and clinical research protocols. Gain a basic understanding of measurement methodologies used in clinical medicine. Understand how "normal" values are determined, and how to interpret test results in the context of patients/research subjects. Approach disease measurements (tests) as a mean of answering questions, and to be able to choose appropriate tests to answer the questions being posed. The measurement aspects of the students' research protocol are written and evaluated during this course.
MTR 604 Scientific and Ethical Conduct: (Spring - year one)
In this course, students will learn the foundational principles of scientific and ethical conduct of research, complete directed experience in evaluating these principles through IRB membership and ultimately be able to apply them to their own work. By the end of the foundational class sessions, students will understand scientific conduct, ethical considerations including human subjects and animal protections, regulations governing the use of health information, drugs, and devices, good laboratory practices, conflict of interest, and ethics in challenging new research domains. The directed experience will include membership for six months on an Institutional Review Board (IRB) at either the University of Pennsylvania or the Children's Hospital of Philadelphia. This membership experience will expose students to real issues, considerations, and solutions in human subjects research and study design. ​
MTR 605 Scientific Writing II - Manuscript Writing: (Summer I - year two)
Students will write a primary data manuscript for publication with their primary lab mentor. Emphasis will be placed on identifying publishable data that was either generated by the student, or which is made available to the student for analysis from the mentor's lab (e.g. perform a new analysis across data from multiple studies, organize and analyze data that is 'laying in wait' for someone to publish it). The student will be expected to learn the role of first author including:
coordination with the senior mentor to write the introduction,
organize data, analyses and figures;
obtain or write methods and results from collaborators;
writing a discussion and;
"getting it out the door".
The authorship for the publication is left to the discretion of the mentor in consultation with the originator of the data and the MTR student. This will both teach the student the value of publishing as an integral part of academic life, and will facilitate their success with subsequent grant applications. The course director will provide guidance and critical review of work throughout the process. Mentors will be asked to agree to participate in this process, or identify another senior individual in their group who would perform the function. Completion of the course and continuation of associated funding is contingent on submission of the manuscript.
Close section
---
Two Electives
Your choice of electives requires prior approval of the MTR Mentoring Committee. Electives must be graduate level courses in an area of concentration that complements the student's future career plans in translational research.
Description of Electives
Electives
In addition to the required courses, trainees must take electives that total two course units. The student's primary mentor and the MTR Programmatic Mentor must approve of the elective courses chosen by the student. MTR and REG electives can be seen below. A representative sample of additional choices can be found on this attached list of electives. Elective courses outside of the Perelman School of Medicine can also be considered.
MTR 535 Intro to Bioinformatics: 1 c.u. (Spring semester)
This course provides a broad overview of bioinformatics and computational biology for biomedical research. The course is geared towards helping students develop their analytical skills for dealing with data, from single gene to whole genome and transcriptome analysis. Students develop skills in programming, reproducible computational research, and machine learning that will position them to apply certain existing techniques and to provide the vocabulary to collaborate with bioinformatics method developers.
MTR 606 Grantsmanship: 1 c.u. (Fall semester)
Students will learn to write a mentored career development or new investigator NIH grant proposal. More specifically, students will:
Understand how grant proposals are reviewed by NIH and which NIH resources are available to investigators
Learn how to find and follow the multiple sets of instructions that apply to many NIH proposals
Develop a method to assemble, write and track the parts of an application
Write an organized and concise Specific Aims page
Develop a research proposal that specifically addresses review criteria
Gain an improved understanding of how to present your statistical analysis
Review classmates' proposals and receive coaching on how to improve their own proposal
Understand how to develop a budget and how budgets are handled in the University system
MTR 620 Translational Therapeutics: 1 c.u. (Spring semester)
Content is focused on an overview of methodological approaches to the discovery, preclinical evaluation, and clinical development of novel therapeutics including devices, small molecules, biologics, vaccine, cell based therapies, and antibodies. Practical steps needed for real world transfer of academic technology to the patient setting will be emphasized including disclosure, patenting, licensing, business development and marketing.
MTR 621 Cell & Gene Therapy: 1 c.u. (Spring semester)
This course will provide students with a general overview of translational research in the area of gene and cell therapy. This would include technical considerations, translating preclinical investigation into therapeutics, the execution of gene and cell therapies clinical trials, and key regulatory issues. Entrepreneurial considerations will be discussed as well. By the end of this course, students will understand the basic technologies employed for gene and cell therapy along with approaches and pitfalls to translating these therapies into clinical applications including regulatory and commercial aspects of this emerging area.
MTR 642 Building a Life Sciences Startup: 1 c.u. (Spring semester)
This class simulates the experience of building a life sciences startup. It is a hands-on, "lab-style", class where students learn practical applications of technology commercialization knowledge. The kernel of this framework consists of two elements: the Customer Development methodology and the Business Model Canvas. The former lays out a process whereby students formulate hypotheses about their startup ideas and test them by going outside of the classroom and interviewing potential customers, partners, and other key stakeholders. To formulate the key elements of a startup vision, we utilize the Business Model Canvas, which provides a succinct way to clearly identifying the key aspects of a business model. The class adopts a flipped-classroom approach, whereby lectures are delivered via online video and class-time is devoted to working on students' projects. In addition to the video lectures, students spend a significant amount of time out of the classroom performing primary market research in the form of interviews. Classroom time is devoted to (1) grounding lecture concepts in real life by analyzing how they relate to student projects, (2) starting on week 6, weekly project-progress presentations by students, and (3) allowing teams to work on their own projects. This class it works well in combination with MTR 620 for students who are interested in the topic of commercializing academic technology.
REG 610 Fundamentals of FDA Regulation: 1 c.u. (Summer semester)
This introductory course provides an overview of Regulatory Affairs in relation to three key areas of development: Drugs, Biologics, and Medical Devices. The course will look at the rules governing prescription and over-the-counter drugs as well as the changes introduced by the influence of genetic engineering and biological product development. The developmental and regulatory path for new devices, as well as the way products are governed once in the marketplace will be explained. Throughout the course, practical issues facing regulatory specialists as they work with the FDA and other international regulatory bodies to secure and keep product approval will be addressed.
REG 611 Clinical Study Management: 1 c.u. (Fall semester)
This course will focus on the practical aspects of executing clinical trials in an academic environment in a GCP compliant fashion. Upon course completion students will be able to effectively implement and manage both investigator-initiated and industry-sponsored clinical research studies. Students will be guided through the operational aspects and regulatory processes for the three stages of study management: pre study, study start-up and implementation, ongoing compliance and study close out. Students will learn strategies for navigating the complex regulatory/operational clinical research environment and for successful protocol development and approval, subject recruitment, data management and IRB/FDA interactions. Protection of human research subjects and adherence to good clinical practices guiding research in humans is a critical concept that will be integrated throughout each of the lectures.
REG 612 Introduction to Drug Development: 1 c.u. (Spring semester)
This introductory course lays the foundation for conducting pharmaceutical research in many ways. It begins with a brief review of the history of drug development and explains the phases of drug development in detail. The decision making process, drug development milestones and compound progression metrics are defined and explained with examples. At the conclusion of this course, students should have a working knowledge of the drug development process, understand the regulatory basis by which new chemical entities are evaluated and ultimately approved and appreciate the time and expense of drug development.
REG 613 Drug Development Decision Criteria: 1 c.u. (Fall semester)
This course reviews the critical junctures over which innovative and generic drugs are evaluated and the decision criteria used to judge performance and plan next steps. The nature of the collective data under review, the decision paths and the decision makers themselves often change depending on the stage of development. This course covers decision criteria from drug discovery through post marketing and even entertains decision points for generic drugs (pharmaceutical- and bio- equivalence). Metrics for evaluation, company and regulatory expectations and the tools used to facilitate decision (e.g., modeling and simulation techniques to generate "what-if" scenarios) making are all discussed in detail. A key feature of the course is 7 "labs" which involve instructor-led decision analysis role playing. The class will be divided into small teams that review data generated at different stages to examine the thought processes and decision criteria evaluable at different stages of drug development. Labs are constructed from actual case study examples and team performance will be evaluated at the conclusion of the lab session.
REG 622 New Trends in Medicine and Vaccine Discovery: 1 c.u. (Fall semester)
Modern drug discovery has evolved beyond small molecule drugs to include various biological approaches from proteins to cell and gene therapy, which has enabled progress in a variety of fields, including rare diseases, immuno-oncology, precision medicine, and biomarkers. The goal of this course is for students to understand newer treatment modalities and approaches beyond 'one size fits all' small molecule drugs, as well as the technologies that empower them. Students will learn regulatory processes that govern medicine discovery and development and also consider business and societal aspects of medical progress. Students will be able to apply concepts directly to work in the healthcare industry. Students will be taught by prominent experts in the field internal and external to Penn.
Close section
---
Two Laboratory Units:
Description of Laboratory Units
MTR degree candidates are required to complete two lab rotations of primary, meaningful laboratory research in a translational research setting. Successful completion of each lab rotation results in the awarding of one credit unit. The purpose of the lab rotation is to emphasize the basic components of the translational research experience, to appreciate that the underpinnings of translational research is understanding disease mechanism, and to learn the subtleties of the measurement of disease process and the complexity this brings to the area of human research.
The student formulates a lab proposal, conducts the research in the laboratory, collects data, and analyzes it. Each lab rotation is meant to provide experience working in a new environment or learning a new technique. Examples of lab units include, but are not limited to:
a traditional wet bench experience to learn how to develop an assay
a clinical lab rotation learning how to perform and analyze a technique in your specialty
a rotation in a bioinformatics laboratory
a rotation in an imaging laboratory.
Process and Registration
Students need to identify a lab mentor who will oversee the lab rotation. The lab mentor and the program mentor must approve the lab proposal prior to registering for a MTR 999 Unit. To get approval, students should complete the lab proposal form found on the MTR Canvas webpage, obtain the lab mentor's approval and signature on the form, and then forward the signed form to their program mentor for their final approval. Once approved, students will be registered for the MTR 999 unit by the ITMATEd Administrative Office. The Lab Rotation approval must be received prior to commencing the lab rotation.
Expectations
During the lab, students are required to document their experiments in a laboratory notebook in accordance with the guidelines established in their research laboratory. The complete laboratory notebook ensures research integrity, intellectual property protection and the ability for anyone to recreate the experiment in its entirety. A short NIH webinar on keeping a lab notebook can be found here: https://www.training.nih.gov/OITEtutorials/OITENotebook/Notebook.html.
At the end of the lab, students are required to write a 1-3 page report by completing the MTR 999 Lab Report Template (found on the MTR Canvas webpage) that outlines the:
Purpose of the lab/Background
Methods
Results
Discussion
The quality of the written report should be sufficient for incorporation into the MTR thesis or a publication submission. The lab grade awarded is a composite assessment of the student's lab mentor evaluation of the rotation and the program mentor's evaluation of the final report.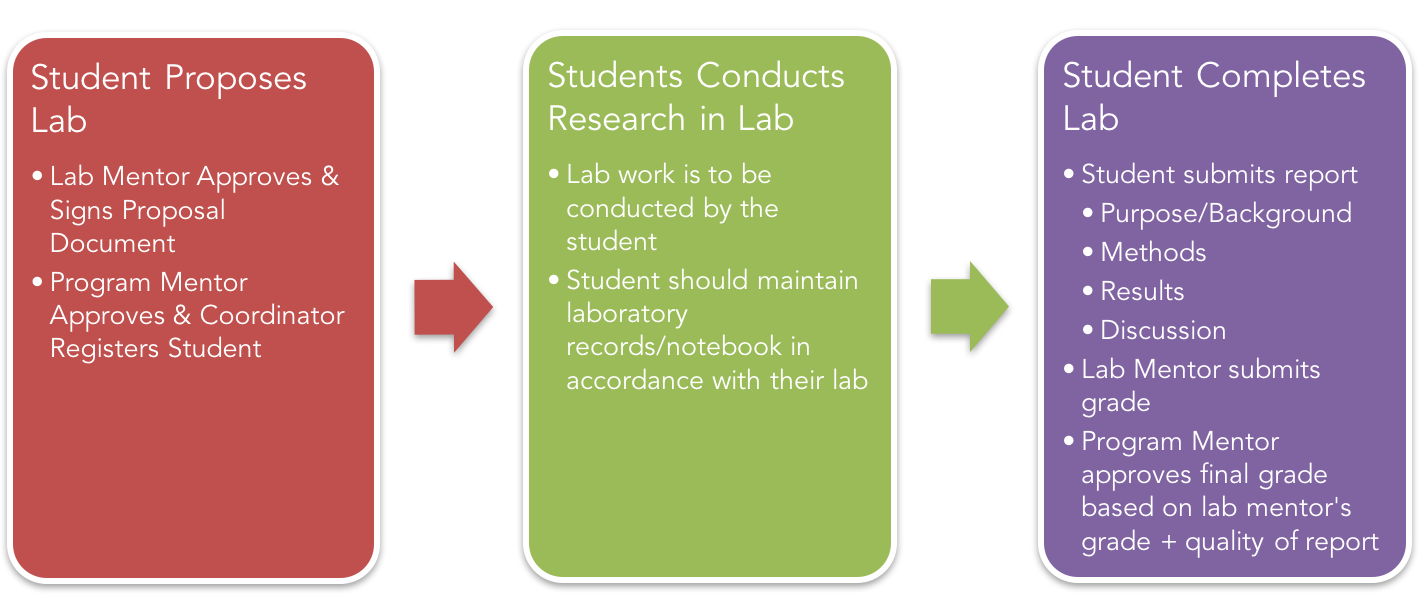 Close section
---
Optional: Industry Internship (1 c.u.)
The MTR program, in collaboration with its corporate partners, will provide an opportunity for students per semester to learn about translational medicine in a Pharmaceutical Industry Internship. This may be eligible for a MTR 999 lab unit.
Description of Industry Internship
Industry Internship
Industry Internship Program: The MTR program, in collaboration with its corporate partners, will provide an opportunity for interested students to learn about translational medicine in a Pharmaceutical Industry Internship. The internship will include approximately 10 hours per week for one semester (10 weeks). Internships may span across every facet of the pharmaceutical industry, including discovery, development, regulatory affairs and commercialization. Students will gain hands on experience "translating technology" and will receive independent study credit for the internship. This program will foster greater interactions between industry and academia by exposing MTR students to the roles they can play in the pharmaceutical industry as a potential career path. Students will be expected to work on site at the corporate partners location for 1 day per week, with additional time dedicated to background research and preparation.
Evaluation process: Students will have both a university and corporate mentor that will participate in training and evaluation. Nalaka Gooneratne will serve as the university mentor for all MTR industry interns. Corporate mentors will be assigned based on the specific content and department in which the internship is performed. Mentors will work together to ensure that interns are meeting the goals and expectations of the internship and the MTR 999 course requirements.
Eligibility: All students enrolled in the MTR program are eligible to participate in the internship. An agreement exists between industrial partners and UPenn that permits this educational experience. The components of this agreement, which will be explained to students, include completing a free standing company application form that includes both a background check and drug testing.
Close section
---
Two Thesis Units:
MTR 607: Thesis (1 c.u.)
MTR 608: Thesis (1 c.u.)
---
Disclaimer
Please note that policies concerning admissions, curriculum, funding and financial aid are subject to change. Additionally, though variations in the curriculum may be possible, any changes will need prior approval and may have financial implications. This website is meant to provide preliminary general overview information only. Students interested in or enrolled in the program should seek personal advising from relevant faculty and staff.